Chicken CHA'Males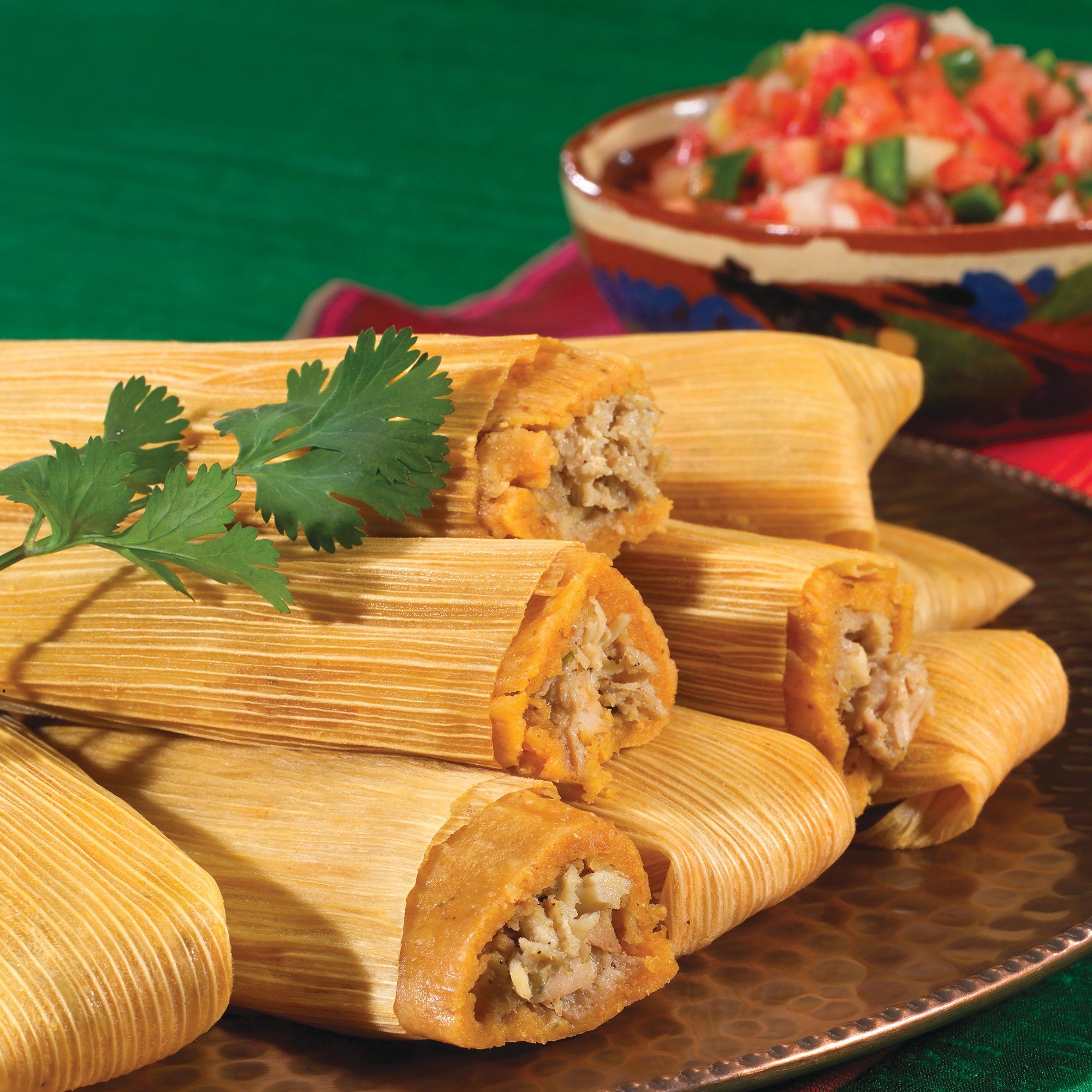 Chicken CHA'males
Prep time 1hr 30 mins / Cook time 1hr / Total time 2hrs 30 minutes (Duh!)
1 Lb corn husks
4 H-E-B Natural Boneless Skinless Chicken Breasts
1 Tsp H-E-B Ground Cumin
1 Tsp kosher salt
1/2 yellow onion, cut into chunks
Hey it's Cha and today's recipe is perfect for family gatherings (remember those? LOL) or cooking for a large group of people who you are safely delivering these to in a hazmat suit or something like that! (see Marty McFly's ensemble in Back to the Future. SONY Walkman with Eddie Van Halen solo while an option, is perfectly acceptable #RIPEVH) Below are your directions and be sure to email me with song requests, shoutouts or let BMO and I know if you actually try one of these recipes.
Instructions
Instructions
1) Soak corn husks in hot water until soft (about 30 minutes-1 hour).
2) While corn husks are soaking, combine 4 cups water, chicken breasts, cumin, salt, onion and garlic in an 8 quart pot; bring the mixture to a boil, reduce the heat to medium-low and cook for 20 minutes, or until chicken is tender and shreds easily.
3) Remove chicken from broth and strain the broth for the masa; shred chicken, and set aside.
4) Using a large mixing bowl and electric mixer on medium speed, blend corn masa, canola oil, baking powder and the 4 cups of chicken broth; beat masa until it feels like mash potatoes, then set aside.
5) Combine the shredded chicken breast and salsa in a large mixing bowl, and set aside.
6) CHA'male Assembly: Place 3 tablespoons masa mixture on the smooth side of the softened cornhusk, and spread into a 4×4-inch square (on the square base of husk); place two tablespoons of the seasoned shredded chicken down the center of each masa.
7) Roll the corn husk lengthwise from right to left, then fold the tamale tail end under and place on tray with folded end on bottom.
8) To steam tamales, use a vegetable steamer pot or electric steamer; fill steamer pot with the amount of water recommended by manufacturer; loosely arrange the tamales, open end up, in steamer basket and arrange so that the steamer basket is full (don't crowd as tamales will expand); cover tamales with leftover shucks to retain steam.
9) Bring water in steamer pot to a boil, cover and reduce heat to medium-low; cook tamales for 60 minutes, or until masa pulls away from shuck and is cooked.
10) Include BMO and CHA in your will or call in a request, dedication or shoutout!
No Bake Peanut Butter Drop Cookies
While you're getting all your goodies made for the holidays, you might have some extra hands in the kitchen with the "littles" home on Christmas vacation, so get 'em out of your hair and off the video games and try this easy NO BAKE recipe that will be a blast to make and is easy enough for children of all ages to make.
This recipe should make you about 18 cookies per batch and if they should be a little gooey, put them in the fridge to chill and they'll harden up in no time.
Total prep time 15 minutes
INGREDIENTS
½ cup butter (4 ounces)
½ cup milk (whole or 2%)
2 cups white granulated sugar (14 ounces)
4 TBL unsweetened cocoa
½ cup creamy peanut butter
1 tsp pure vanilla
¼ tsp salt
3 cups quick oatmeal
INSTRUCTIONS
Melt butter with milk in saucepan over low heat.
Add sugar and cocoa and cook until boiling, stirring to make sure that cocoa is incorporated without lumps. Boil one minute.
Remove pan from heat, add peanut butter, vanilla and salt. Stir until peanut butter is melted and mixed in.
Add quick oats.
Mix together then drop by spoonfuls or small ice cream scoop onto parchment or waxed paper lined cookie sheet.
Cool and enjoy!
Poll question of the day:
What is the best thing about Christmas? Is it all of the food? Or maybe it"s all of the lights and decorations. Let us know what you think by voting in the poll below.
What is the best Christmas tradition?