Thursday June 17th
Last time on B-MO in the MO'rning – B-MO welcomed our 2020 Mississippi Songwriter of the Year winners Chapel Hart to the show as they discussed their big concert that kicks off this years Mississippi Songwriter of the Year at The MAX in Meridian and what it their experience was like in not only winning the award, but recording in Muscle Shoals with Billy Lawson and the obstacles they overcame with the pandemic and touring. Today also marked the first installment of a new segment on the show called "Kosciusko Questions" which we are sure will be expanded to Central Mississippi questions as his wife Yvonne is getting settled in to her new surroundings.
In todays segment which can be seen in the video below, Yvonne tries to tackle the puzzling nature of the lil red caboose on the square in Kosciusko and the nature of whether there were train tracks that ran there or if it was just a display! Luckily KAP Executive Director was able give her the right answer (which B-MO knew she wouldn't believe him if he had said it. B-MO knew the correct answer mind you, but anytime you can blame the "train people" why not, right?
The video footage of "Kosciusko Questions with Yvonne"
Hits & Mrs. – While some listeners know or have heard of B-MO's wife "Yvonne", they don't know of her 12 years of appearing on the air with him over his career. His numerous phone calls to him as are all calls, were recorded and during his final year in California B-MO put together a parody of them called "This is Yvonne: The Greatest Hits and Mrs." The snippet includes audio of her paid adoring fans talking about how wonderful she is, her singing various Salt-N-Pepa and nursery rhymes while on hold and a look into her nocturnal activities with her parents and finally, the tragic occurrence when their son Dylan ate her King Sized Kat Kat candy bar. We present for your listening pleasure (sarcasm) for the first time…."This is Yvonne: The Greatest Hits & Mrs."
"Kosciusko Questions with Yvonne" – While the audio footage from this conversation may not be as humorous as the video, B-MO and Breck tried to inform her of the correct answer, she didn't want any part of it.
"You have questions, we have answers" – To ensure that Yvonne had heard the proper answer to her "Kosciusko Question" B-MO thought he would call her and things got a little "heated"
Chapel Hart, the 2020 Mississippi Songwriter of the Year winner will be appearing in concert at this years event and they took time out of their current tour schedule to come on the show this morning to discuss what it's been like for them professionally.
What it meant for them to win the award last year…..
Chapel Hart discusses the experience of Muscle Shoals and recording with Billy Lawson and at Wish Bone Studios. How they were able to remain active during the pandemic and their approach to writing music….
Thursday June 17th Recap – Special thanks to KAP Executive Director Darren Milner for stopping by to answer Yvonne's Kosciusko Question and thanks to "Brother Breck" for additional info on the Caboose click here.
Friday February 12th
Last time on BMO in the MO'rning – BMO and Breck were the guests of the Pearl River Resort's "Mama n' Em" restaurant. Executive Chef Mike and Chef Alex prepared what BMO called "the most complete dining experience he's had. The presentation, the flavor, the portions and the rustic décor sets a table that would make my own Mama proud." Chef Alex describes the meals they carefully as "Southern dining redefined, combining all the best of traditional southern food, with a twist." The meals prepared were a combination of both BMO's and Brecks personal favorites and were taken to a different level with regards to every expectation they could have had. "Mama's" has 3 menus to choose from and whether you chose their main menu or brunch menu, you are sure to find something for every and anyone. Their drink menu has several southern favorites, while their dessert menu, takes sweetness to a whole different level. "It is a must for anyone for any occasion, just bring a photo ID if you have "young eyes" as Breck was carded while waiting on the casino floor. BMO called Breck "absolutely giddy" that he was carded. "From the moment you walk in to Pearl River Resort, you can see that they want the best possible experience for their customers, by providing the safest gaming environment possible, to the courteous service staff inside Mama n Em…take it from a former Las Vegas resident, the Pearl River Resort stands alone in a total satisfaction", said BMO between bites. Book your table here.
Mama n' Em hours: Brunch Saturday and Sunday – 11am to 2pm /  Lunch & Dinner – 11am to 11pm /  Dinner – Saturday – 11am to 11pm
Video footage BMO & Breck with Chef Alex at Mama n' Em at the Pearl River Resort…
BMO and Breck discuss their "spread" at Mama n' Em, what was thought was going to be a simple meal becaome something unforgettable thanks to Erica, Executive Chief Mike, Chef Alex and a table full of BMO & Brecks favorite dishes.
BMO and Breck discuss the new "Tipsy Tommy" action figure and "Touchdown Tommy's" right to party…
BMO & Breck discuss Florida Man: How to know your relationship is officially over…
BMO and Breck – It's DAYTONA 500 Time
February 12th Recap
---
"HERS 'day February 11th
Last time on BMO in the MO'rning – It was a HERS 'day like no other as BMO, KC and Ms. Lisa welcome singer/songwriter Jenna Torres and discussed a variety of topics, including BMO 
addressing a rumor about a "possible Valentines gift for a 7 time Super Bowl winning quarterback." As it is on Thursdays, BMO in the MO'rning places a spotlight on female artists, their passion and artistry and with Jenna Torres in the mix things were more colorful than any before her as they discussed her new album "All Heart". BMO also expanded KC and Lisa's duties on the show after their desire to take on more than simple conversation on topics and as they so elegantly put it "we're professionals, what could go wrong?" So sit back, crank your volume and enjoy "what could go wrong" we mean "another professional edition" of a "HERS 'day" with BMO in the MO'rning!
So from the "handoff" which is where Charlie Derek our overnight guy asks BMO "what's coming up today on the show?" BMO knew it was gonna be a fun filled day… 
BMO discusses how Ms Lisa and Jenna share a common love for a certain female artist and it became what will forever be known as "The DP Incident" (as the phone and text lines stayed giggling for just a while)
"The Weather Girls" take their shot at our forecast…
BMO introduces Jenna Torres and one of his personal favorites of Jenna's called Wild Sugar….
BMO and Jenna discuss "The Rose of Jericho" and how he listens to music regards to hype…
BMO and Ms Lisa read a question from 10 year old Haley who asks Jenna for some advice…
BMO introduces "Wild Thing" and Jenna discusses the story behind it…
BMO and KC discuss Jenna's 911 reset and how it affected her life…
BMO introduces "All Heart" while Jenna discusses the story behind it…
BMO and Jenna wrap things up with one her favorite bands and a quick "Q & A"
Learn more about Jenna on her website by clicking here.
Follow her on Facebook here and on Instagram here
Jenna's music is available on Spotify and iTunes
A heartfelt thank you to Jenna Torres for her laughter, time and incredible insight. Special thank you as well to Crystal Henderson for helping to make the connection and for your efforts that helped me share her gift! Enjoy the ride J! – B
"HERS'day February 11th Recap
---
After brief vacation for "Big Game Festivities in Tampa" "Last Time on BMO in the MO'rning RETURNS!"
"Doublewide WINS-Day" February 10th
Last time on BMO in the MO'rning – It marked the final chance to get qualified for our huge "Strait from the Heart" promotion where one lucky person could win all of this from our sponsors:
A "SWEETHEART DINNER" FOR TWO AT LEE'S STEAKHOUSE – located at 15874 Hwy 21 N in Sebastopol, A DOZEN RED ROSES FROM MG & COMPANY – located at 416 E Beacon St in Philadelphia
A YANKEE CANDLE FROM E-VON'S JEWELRY – located at 610 Hwy 16 W in Carthage, A BOTTLE OF WINE FROM FAIR CITY LIQUOR – located at 1207 Pecan Ave in Philadelphia and
A HALF DOZEN SPOONFUDGED DIPPED STRAWBERRIES AND A JAR OF SPOONFUDGE TO GO WITH IT courtesy of Proverbs Coffee – located at 779 Hwy 16 E in Cartage
Listeners were asked to listen to "Strait at 8" (brought to you by Chuck's Paint & Body Auto Shop in Philadelphia) then write down the two songs because later in the show BMO would give them a chance to call in to get qualified. BMO's "Text & Tones" Topic Question of the Day became a poll question as well after BMO read that a survey of parents found that 62% percent stated that their children's social skills were declining due to virtual learning and Covid 19 preventing them from going to school. BMO and Breck chimed in with their opinions and callers did as well. Then finally former American Idol contestant Lauren Alaina discussed her new single and how she has trouble "flirting"? We think BMO may be able to help her out!
BMO & Breck – BMO gets a "little" fired up after reading a study find that parents are saying COVID 19 and virtual learning are causing their children's poor social skills…
BMO  opened up the phone lines and took some calls on what people thought were the reasons behind children's poor social skills might be…
BMO premiered Lauren Alaina's new single "Getting Over Him" featuring Jon Pardi and they discussed her being "single" for the first time since she was 17 and her not being much of an "intentional flirtter"!
February 10th Recap
---
Monday February 1st
Last time on BMO in the MO'rning – Love was in the air and so was a lot of WINNING as BMO had 2 pairs of tickets for the 56th Anniversary Dixie National Livestock Show and Rodeo. The first pair came courtesy of Chucks Paint & Body Shop in Philadelphia, the new sponsor of a staple of the morning show "Strait at 8"! "Brother Breck" stopped by to take his shot at the 8 SECOND RIDE, BMO's 8 second music medley, for more info on the 8 SECOND RIDE click here.  The boys talked about the kick off of the "SUPER GAME WEEK" since that other football game can't be mentioned by name and they featured a teaser video from the new "Super Game" commercial featuring Mike Myers and Dana Carvey who reprised their roles of Wayne's World for Uber Eats. While it looks good, the boys have another favorite.
On the heels of the new "Wayne's World" Uber Eats commercial, BMO and Breck think it has big shoes to fill when compared to their personal favorites Mark Hamil and Patrick Stewart, the man who has the best bald head of all time…
"Brother Breck" took a shot at going the distance with the 8 Second Ride but wasn't quite sure he was ready…
BMO opened up the phone lines to see if anyone was brave enough to take on the 8 Second Ride music medley challenge and he found Lisa Jones was more than up for the task… (thanks to a little help from her husband! LOL) 
Monday February 1st Recap – The show that had more winning than a old Charlie Sheen interview…
---
Wednesday January 27th
Last time on BMO in the MO'rning – There are odd couples and then there's BMO and Breck. The only thing stranger when seen together is the friendship shared by Martha Stewart and one Snoop D-O-double G, but they some how, some way keep comin' with funky fresh headlines everyday. Tune in today as BMO, Brother Breck and our award winning news anchor Chris Davis give you a possible reason as to why Martha and Snoop are homies, they'll take you through a "Double Wide WINS-Day" where its back to back favorites from country music's biggest names. There's a duet edition of "Strait at 8" as George sings duets with Kenny Chesney and a country legend he has never sung with before! (Who could it be, keep it locked right here and find out) 
With the Super Bowl around the corner a lot of people are making their plans for food now as to menus, things they'll fix for themselves, coming up with "Brother Breck", wait till you hear what the most popular items to be delivered by Doordash is? Pizza?? NO Chicken Wings?!? NO!!!! Coming up we'll find out what your "go to dish" is for Super Bowl plus BMO had SPRA Rodeo Final tickets to give away too!
All of that and more with "Brother Breck", plus Chris Davis had your Central Mississippi news….
What is the top trending food for delivery according to Doordash for Super Game Sunday you ask?
We have all known some strange couples, but if you've ever seen Martha Stewart and Snoop Dogg together you had to have asked the question, "What the hell could they ever have in common?" Well today BMO and Breck found out for themselves…
BMO asked "what is everyone's go to food for the Super Game" and wound up getting a recipe, while she a pair of tickets to the SPRA on Friday February 5th…
Wednesday January 27th Recap
---
Tuesday January 26th 
Last time on BMO in the MO'rning – It marked the anniversary date of the premiere for one of BMO's favorite television shows, The Dukes of Hazzard. The series which ran from 1979-1985 introduced viewers to "The Duke Boys", BMO's first crush "Daisey Duke" (aka Catherine Bach) and BMO's first love….that 1969 Dodge Charger, the "General Lee"! The General sparked a friendly argument about which Hollywood Hot Rod was the greatest of all time as "Brother Breck" chose K.I.T.T from Knight Rider. So we asked for your votes as these machines battled out it in something we called "Car Wars.' It was The General Lee vs K.I.T.T. vs The Bandit (from Smokey & The Bandit) "Bullitt" from Steve McQueen's motion picture called The Bullitt and Doc Brown's DeLorean DMC-12 from Back to the Future.  
BMO and Breck got things started off…
And they call him, The Bannnndddiiitttttt!
BMO made Courtni's day as she won herself a pair of tickets for the SPRA Rodeo Finals
Tuesday January 26th Recap – BMO, The Bandit and Buford T. Justice (he done good, ain't he Fred woof! We're clear!)
---
Monday January 25th 
Last time on BMO in the MO'rning – It was championship Sunday and the match up for the NFL's biggest game of the year as BMO's hometown Tampa Bay Buccaneers will play the Kansas City Chiefs in a regular season rematch that the Bucs lost by 3. What makes this special for BMO is that it marks the first time a hosting city for the game has had the home team playing in it! So things got off to an early start as "the Saints" fans BMO works with had to tease him about being the "lone wolf" when it came to being a BUCS fan.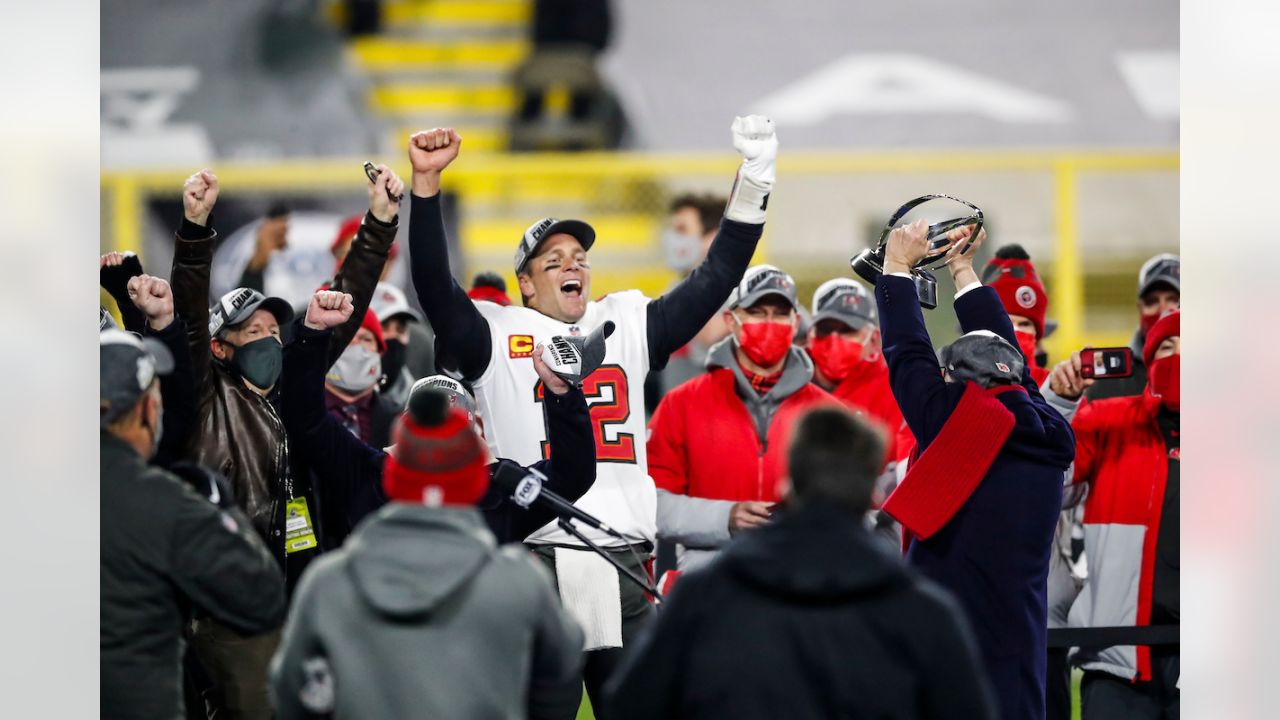 First "Brother Breck" had to bring up BMO "representin' his Bucs with a red polo he had on under his jacket…
Then our resident "Genius" and "Poet" aka the Award Winning Chris Davis penned a poem for the occasion…
Then it was on to giving away tickets for the upcoming SPRA Rodeo Finals on February 5th at the Neshoba Coliseum, as Angie Shuler was our first winner of the day…
Then BMO and the boys opened up the phone lines (against BMO's better judgement lol) and asked you "What was something messed up you did as a kid? ….
Monday January 25th  Recap – This promo is a big deal to BMO as it features "Gene Dekerhoff" the voice of the Tampa Bay Buccaneers and the Florida State Seminoles! "Yep, my career was made complete today, to have Geno making the call and have him on the promo, made my day!" – BMO